EU member state positions on UN General Assembly depleted uranium resolutions
Wondering how your government votes on DU resolutions at the UN? Then check out this map based on EU member state positions in 2012.
9 April 2014 - ICBUW
In 2012, 155 states voted in favour of a UN General Assembly resolution on DU. It:
- recognised the potential health risks posed by the weapons;
- it called for a precautionary approach to their use and post-conflict management;
- it called for DU users to tell affected government where they fired the weapons and in what quantities;
- it called on UN agencies - WHO, UNEP, IAEA - to update their research on the legacy of the weapons' use.
These are not particularly controversial requests, and yet 27 states abstained (only the UK, US, France and Israel voted no). Of the states that abstained, many were EU member states, and this is in spite of repeated calls from the European Parliament for a moratorium stretching back more than a decade and most recently, a ban.
ICBUW believes it is time for EU member states to demonstrate some leadership on this issue. If you believe that your government should show some leadership, you have between now and October 2014 to let them know.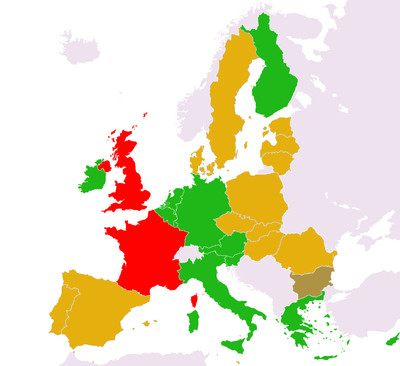 EU member state position on 2012 UNGA resolution on depleted uranium, red = oppose, amber = abstain, green = support. Bulgaria was absent from the vote but has historically abstained.