#Act4Iraq
WHO and Iraqi Ministry of Health preliminary birth defect report: more questions than answers
CADU and ICBUW have issued a statement on the puzzling preliminary report of the Iraqi Ministry of Heath and WHO on the prevalence of birth defects in nine Iraqi provinces and has reiterated its call for full release of all data.
22 September 2013 - ICBUW
The preliminary results of the much anticipated, and long delayed, report by the WHO and Iraqi Ministry of Health were published without fanfare on September 11th 2013. The summary report on the matter noted that:
"the rates for spontaneous abortion, stillbirths and congenital birth defects found in the study are consistent with or even lower than international estimates. The study provides no clear evidence to suggest an unusually high rate of congenital birth defects in Iraq"
The table below from the report shows the results behind this statement. The findings are surprisingly contrary to previous research into congenital birth defects (CBD) in Iraq and observations in hospitals of the unusually high number of newborns with congenital birth defects.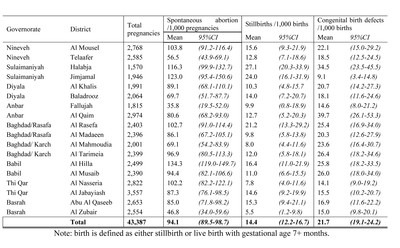 In particular, the reported rate of 14.6 CBD/1000 births in Fallujah raises some questions. Experts in the field of monitoring congenital anomalies have noted to ICBUW that the computation of combined rates of CBD is not standard practice. Nonetheless, the vast difference between this and the results cited by Alaani et al.(2010) bears further attention and analysis. That study found the combined rate of CBDs in Fallujah to be 144 CBD/1000 births based on the examination of 2000+ newborns at Fallujah General Hospital. Additionally, the reliability of the survey methodology of gathering data from house to house is questionable and analysis of hospital data is likely to be more reliable. Without access to the full dataset, it is hard to comment further without conjecture.
Another cause for concern is the total contradiction between the results of the survey and revelations in a BBC news report Born Under a Bad Sign, where BBC reporter Yalda Hakim was explicitly told that the preliminary results pointed to a rise in CBD in areas that were subject to heavy fighting. One official at the Iraqi Ministry of Health even said that there was "damning evidence" that there was a sharp increase in birth defects and that some of the increase could be related to military-origin contamination.
The continued health and wellbeing of many Iraqis is at stake if nothing is done to credibly address the matter of CBD. ICBUW and CADU repeat their call to the Iraqi MoH and the WHO to urgently release the full report and the dataset behind it in order for an objective, transparent and open review process to occur. Through a rigorous and open analysis of the results public confidence can be maintained and more importantly public health in Iraq can be protected.
This call remains unchanged and echoes that made by Dr Samira Al'aani through the petition website Change.org. The petition has been signed by more than 50,000 people.